"
The Amazonian Secret Rich in Omega-3s!"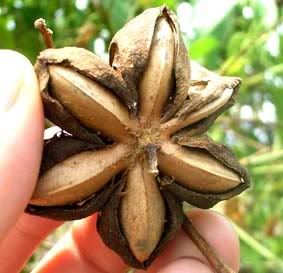 * High unsaturated fatty acids content * Low level of saturated fatty acids * Vitamins A and E * Balanced Omega composition


Sacha inchi seed is grown wildly in the Peruvian Amazon, it was known by native Peruvians thousands of years ago. The Incas represented sacha inchi seed in their ceramics. This seed is also known as the inca peanut.
Scientific researches have found that Sacha inchi is one of the best oilseeds by its composition and high nutritional profile:
Its oil is high in fatty acids: omega 3 (over 48%), omega 6 (36%) and omega 9 (8%)
Sacha inchi oil has a high digestibility (over 96%)
It contains antioxidants vitamin A and vitamin E alpha-tocopherol
Over 60% of the kernel is full of high quality proteins (99% digestible)
Sacha inchi oil is very rich in essential and non-essential amino acids, in sufficient quantities to improve the general human health
Sacha Inchi is best known for it's vast nutritional benefits. Sacha Inchi is 1/3 complete protein, and is one of the best vegetarian sources of Omega Fatty Acids on the market. The seeds contain a whopping 25% Omega-3's by weight alone. Rich in Vitamin A and Vitamin E, Sacha Inchi ranks in as one of the healthiest and most nutritionally complete superfoods you can include as part of your diet.