Banana Coconut Cream Pie w/ Chocolate Crust!
Chocolate Crust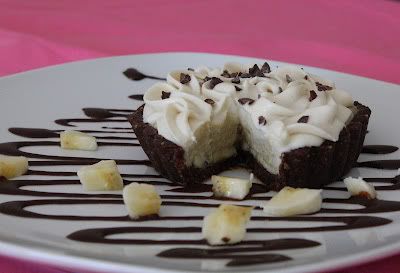 Grind the almonds in a food processor.
Add the remaining ingredients and process to combine into a dough.
If the mixture is too crumbly and dry, add a little water.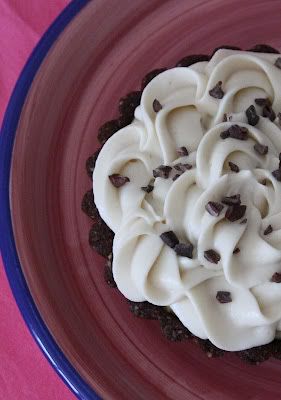 Banana Filling
1 1/2 cups mashed banana
2/3 cup packed young coconut pulp
4 tablespoons irish moss gel
12 drops stevia
1 teaspoon vanilla powder
1/2 teaspoon lemon juice
1 teaspoon psyllium (optional)
6 tablespoons melted coconut oil
Diced banana
Blend all but the psyllim and coconut oil until smooth and creamy in a high speed blender.
Add the last two ingredients and blend again to incorporate.
Fold in the diced banana.
Coconut Whipped Cream
3/4 cup packed coconut pulp
1/4 cup coconut water
1/4 cup
cashews
1/4 cup irish moss gel
2 tablespoons + 1/2 teaspoon agave or maple
2 teaspoons lemon juice
1 1/2 teaspoons
vanilla powder
4 drops stevia
1 tablespoons
agave nectar
or 2 tablespoons
coconut nectar
1/3 cup melted
coconut oil
Blend all but the coconut oil and powder/lecithin until smooth and creamy.
Add the last two ingredients and blend again to incorporate.
Pour into a large container and chill in the fridge for at least 8 hours.
When chilled, pipe over banana cream. Sprinkle with
cacao nibs
.
ENJOY! :)
"LIKE" our Facebook & Receive Free $10 GIFT!