This breakfast parfait tastes just like yogurt with berries and granola! The creme fraiche makes a great raw vegan whipped cream as well. The granola is a delicious raw breakfast cereal with fresh raw almond milk.
For the Coconut Creme Fraiche;
1 1/2 cups coconut meat
1/4 cup lemon juice
2 tablespoons agave
2 tablespoons coconut oil, in liquid form
Blend all ingredients well in a high-speed blender.
For the Buckwheat Granola;
2 cups soaked buckwheat
1/2 cup soaked almonds
1/2 cup raw pumpkin seeds
1/2 cup raisins
1 apple, diced
1/4 cup agave
1 teaspoon cinnamon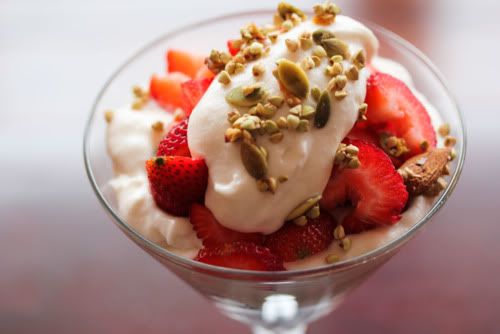 Soak almonds overnight. Soak buckwheat groats amd pumpkin seeds about 2-4 hours. Drain and rinse almonds, pumpkin seeds and buckwheat and mix well with other ingredients. Spread onto solid dehydrator sheets and dehydrate overnight. To assemble the parfait, layer fresh berries or fruit with granola and creme fraiche.
FOR MORE AMAZING RECIPES
VISIT RACHELCARR.COM
All photographs & recipes are copyrighted by Rachel Carr
WHAT DO YOU PUT ON YOUR GRANOLA??
"LOVEFOOD" Discount Code $10 Free on Orders $50+