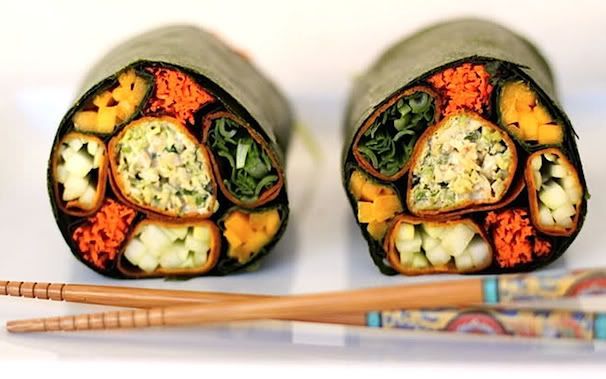 Ingredients

Yellow Wrapper

Purple Wrapper
Filling

Methods/steps
Wrappers
1) Blend all the ingredients for each colour wrap separately in a high speed blender.
2) Spread thickly on Teflex sheet-lined dehydrator trays,
and dehydrate for about 3-4 hours, or until dry to touch.
3) Flip and peel away the Teflex sheets.
Dehydrate for another 30 minutes to an hour, until the underside
is completely dry, but the wraps are still pliable. The dehydration time,
thickness, and final colour can vary significantly, depending on the quality of produce used.
Filling
1) Mix cashews with sesame oil and salt. Set aside.

2) Puree the next 5 ingredients in a high speed blender.
3) Add the almond butter while the blender is still running, at a low speed.
4) Using your hands, thoroughly combine the shredded cabbage
with the blended mixture, salted cashews, and herbs.


Assembly:
1) The rolling technique used here is called Rokusha or
colour wheel, and you can find step-by step rolling instructions in
a sushi encyclopedia. Start with rolling the spicy cabbage for the
center in any color wrap you prefer.
2) Then roll each of the remaining ingredients individually.
3) Arrange them around the center as shown in the photos.
4) Using a sushi mat, roll everything together into one whole wrap.
5) Wet the edges of the wrappers to help them stay together.
6) Let the rolls sit in refrigerator for at least 30 minutes.
7) Using a very sharp knife, cut into pieces of desired thickness, or eat whole as a wrap.
For More Amazing Recipes: Chef Golubka
All photographs & recipes are copyrighted by Chef Golubka
WHAT'S YOUR FAVORITE SUSHI???
"LOVEFOOD" Discount Code $10 Free on Orders $50+