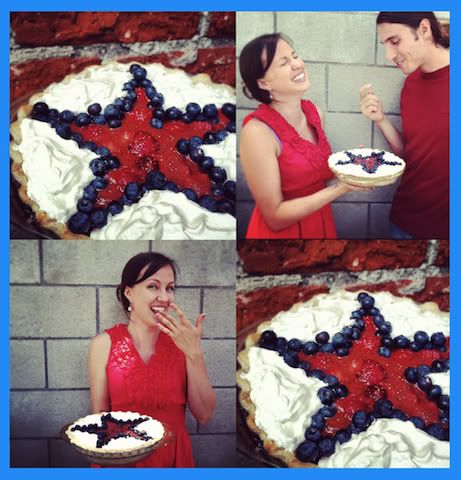 Homemade StRAWberry Chia Pie
w/ Maple Whipped Cream
Old-fashioned single crust:
1 cup all-purpose flour (whole wheat flour is not a good substitution here)
1/3 cup shortening
1/2 teaspoon Himalayan sea salt
3 tablespoons cold water
Raw Strawberry Chia Filling:
2 lbs strawberries
1/2 lemon
1/4 cup chia seeds
1 cup coconut sugar
3 teaspoons arrowroot or corn starch (as thickener)
Homemade Maple Whipped Cream:
1) Mix flour and salt in bowl. Cut in shortening (using pastry blender, fork, or two knives) until mixture consists of pea-sized crumbles. Add cold water one tablespoon at a time and toss with fork to distribute. More or less water may be needed dependent on the humidity. You want a dough that sticks to itself but not to anything else. Use your hands to shape your dough into a ball or flat round. Be gentle, less handling = flakier crust. Wrap in plastic wrap and place in refrigerator for 45 min to firm crust (optional).
2) Heat oven to 475 degrees. Lay 1 or 2 sheets of plastic wrap on a level rolling surface. Place your dough in the middle and top with another sheet of plastic wrap. Gently roll out (I prefer a French rolling pin, but a standard one will work just fine and a bottle of wine will do in a pinch.) Working from the middle to the sides, shape the dough into as large of a circle as you can muster (you really can't make it too big, and it doesn't have to be a perfect circle.) Peel the top layer of plastic wrap, and use the bottom layer to pick up your crust and place it into your pie pan. Try to center it as best you can, but don't try too many readjustments. Press dough into pan to remove any air bubbles, then remove plastic wrap. Roll overhanging crust under and flute as desired (I use two fingers from my right hand and one from my left pulling in opposite directions). Lastly, use a fork to pierce the bottom and sides of the crust ~40 times. Place on middle rack of oven for 8-10 min, until top of crust begins to brown. Remove and cool.
3) Use a small knife to remove the top and any unripe or overripe sections of all strawberries. Slightly less than half of your strawberries will go into the food processor to make your strawberry sauce, the remainder will be sliced in half and added at the end. Blend your sauce strawberries to a mush, then add sugar and the juice from half a lemon. The sugar will further liquefy your berries, so process them a little chunky. (If you want an amazing strawberry sauce, stop right here. Or just make enough to have extra ;o) Mix in your chia seeds and thickener, then add strawberries and toss to coat. Spoon your filling into your crust, then place pie UNCOVERED into refrigerator. Chill overnight oEnjoy!r for at least five hours to set.
4) Place whisk and bowl in freezer until ready to make whipped cream. Add cream, a pinch of salt, and maple syrup to taste. Blend 2-5 min, until peaks form and hold their shape for a moment before falling. Serve immediately on top of your pie (or in coffee, or with a spoon...)
HAPPY 4th of JULY
From ELF to YOUR FAMILY! :D

"LOVEFOOD" $10 DISCOUNT CODE!
Check out AT COST items :) HERE