Raw Mulberry-Coconut Cupcakes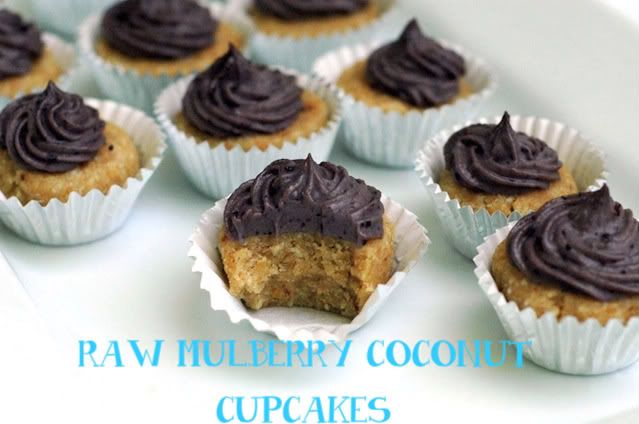 INGREDIENTS
CUPCAKES:
FROSTING:
METHODS
For the cupcakes:
1) Using a hand mixer or stand mixer, combine
the coconut flour, almond flour and ground mulberries.
2) Add the date paste, almond milk and salt and mix until combined.
3) Finally, add the coconut oil and flax meal and mix until combined.
Be careful not to overmix. It should look like thick cake batter.
4) Line a mini muffin tray with mini muffin or candy cups.
Scoop a 1/2 tablespoon of the cupcake mixture and mold it into
a ball or cupcake shape and gently press it into the muffin cup.
Repeat with remaining mixture. Place the tray in the fridge or freezer
while you make the frosting (recipe below).
For the frosting:
1) Using a high-speed blender, blend the blueberries, cashew
butter and agave nectar until well combined and smooth.
Add the coconut oil and blend just to combine.
2) Scoop the mixture into a piping bag and attach a small tip.
Decorate each cupcake and return the cupcakes to the fridge until ready to serve.


All photographs & recipes copyrighted by Nicole Axworthy
HAVE YOU TRIED MULBERRIES???
"LOVEFOOD" Discount Code $10 Free on Orders $50+