by Charles ELF on Dec 14, 2012 in Recipes & Blog
Raw Grapefruit Rose Sandwich Cookies
Raw Grapefruit Rose Sandwich Cookies
Makes 12
Cookies:
Frosting:
3/4 cup raw cashew pieces (preferably soaked overnight)
1/4 cup grapefruit juice

2 Tbsp organic grapefruit zest

1 cup fresh young coconut meat (or additional soaked cashews if not available)
1/4 cup raw agave nectar or raw honey
1 teaspoons vanilla and seeds of half a vanilla bean
1 tsp rosewater
1/4 cup coconut oil (warmed to liquid)
For the cookies, combine the shredded coconut and almond meal in a food processor, and process until finely ground. Add agave nectar, vanilla, juice, zest, and sea salt and process until well combined. Remove dough from processor and roll out on a piece of parchment 1/4 inch thick. Place in the freezer for 1/2 an hour, then cut out with small heart (or whichever shape you like) cookie cutters. Place them on a teflex lined dehydrator sheet and dehydrate for about 24 hours until dry but soft in the middle.
Meanwhile, for the frosting, combine all ingredients except coconut oil and process until smooth. With the processor running, add the coconut oil, and process a minute more until well blended. Place the frosting in the freezer for about an hour or until frosting consistency, then place in a pastry bag and pipe onto half the cookies (bottom side up). Top with the other cookies to form sandwiches. Enjoy! Keep refrigerated.
COME PARTY w/ US!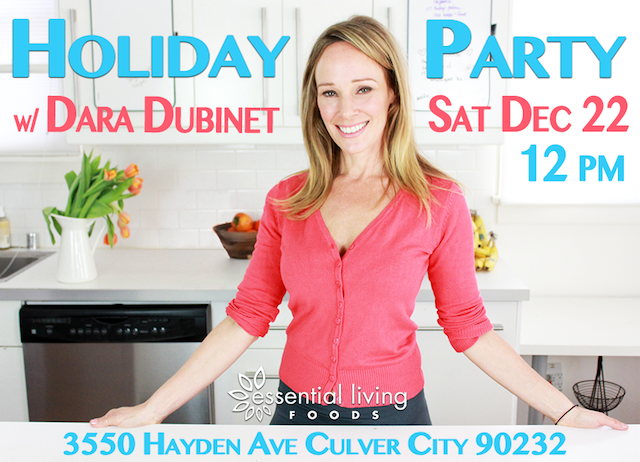 CONNECT w/ US!